Cyclobutanedicarboxylic acid
---
We are a high-tech enterprise specializing in the production and R&D of platinum group metal antitumor drugs. Our main products include cisplatin, carboplatin and oxaliplatin, etc. The quality of our products meets the requirements of the Chinese Pharmacopoeia, the United States Pharmacopoeia and the European Pharmacopoeia and other pharmacopoeial standards.
Product description
  Attribution: Carboplatin API impurity B
  Chemical name: 1,1-cyclobutanedicarboxylic acid
  English name: 1,1-cyclobutandicarboxyl acid
  Chemical formula:C6H8O4
  Chemical structure formula.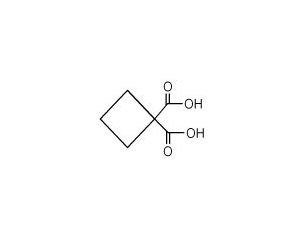 Appearance: White powder
  Standard: Enterprise standard
  Package specification: 100mg, 200mg, 500mg, 1g, 2g, 5g, 10g (or as per customer's requirement).
  CAS: 5445-51-2