Potassium chloroplatinate (potassium tetrachloroplatinate)
---
We are a high-tech enterprise specializing in the production and R&D of platinum group metal antitumor drugs. Our main products include cisplatin, carboplatin and oxaliplatin, etc. The quality of our products meets the requirements of the Chinese Pharmacopoeia, the United States Pharmacopoeia and the European Pharmacopoeia and other pharmacopoeial standards.
Product description
  Uses: Used in the preparation of cisplatin, carboplatin, oxaliplatin, nedaplatin, succoplatin and complex platinum.
  Chemical name: potassium tetrachloroplatinate
  Chemical formula: K2PtCl4
  Chemical structure formula: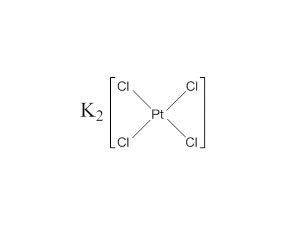 Appearance: Dark red crystal
  Packing specification: 100mg, 200mg, 500mg, 1g, 2g, 5g, 10g 20g, 50g, 100g, 500g, 1000g (or as per customer's requirement).
  CAS: 10025-99-7