(1S,2S)-(+)-1,2-Cyclohexanediamine
---
We are a high-tech enterprise specializing in the production and R&D of platinum group metal antitumor drugs. Our main products include cisplatin, carboplatin and oxaliplatin, etc. The quality of our products meets the requirements of the Chinese Pharmacopoeia, the United States Pharmacopoeia and the European Pharmacopoeia and other pharmacopoeial standards.
Product description
  Use: For the preparation of oxaliplatin impurity D.
  Chemical name: (1S,2S)-(+)-1,2-cyclohexanediamine
  Chemical formula: C6N2H14
  Chemical structure formula.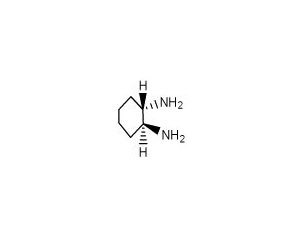 Appearance: White crystal
  Standard: Enterprise standard
  Package specification: 100mg, 200mg, 500mg, 1g, 2g, 5g, 10g 20g, 50g, 100g
  CAS: 21436-03-3