Sunpla/Eptaplatin
---
We are a high-tech enterprise specializing in the production and R&D of platinum group metal antitumor drugs. Our main products include cisplatin, carboplatin and oxaliplatin, etc. The quality of our products meets the requirements of the Chinese Pharmacopoeia, the United States Pharmacopoeia and the European Pharmacopoeia and other pharmacopoeial standards.
Product description
Chemical Name: cis-malonic acid diamine methyl dioxolane platinum (Ⅱ)
  English name:Sunpla/Eptaplatin
  Chemical formula:Cis-[Pt(C3H2O4)(C8H18O2N2)]
  Chemical structure: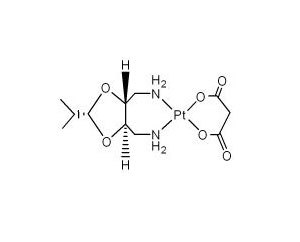 Appearance: white to almost white crystalline powder
  Standard: Enterprise standard
  Indications: gastric cancer, cervical cancer, head and neck cancer, lung cancer.
  Packaging specifications: PE composite bag (inner packaging), aluminum-plastic bag (packaging), 1 gram, 2 grams, 5 grams, 10 grams, 20 grams.
  CAS:146665-77-2