Pt(NH3)2Cl2
---
We are a high-tech enterprise specializing in the production and R&D of platinum group metal antitumor drugs. Our main products include cisplatin, carboplatin and oxaliplatin, etc. The quality of our products meets the requirements of the Chinese Pharmacopoeia, the United States Pharmacopoeia and the European Pharmacopoeia and other pharmacopoeial standards.
Product description
  Assignment: cisplatin bulk drug impurity A
  Chemical name: trans-dichloro-diaminoplatinum (II)
  English name:transplatin
  Chemical formula:trans-[Pt(NH3)2Cl2]
  Chemical structure: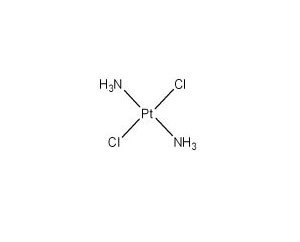 Appearance: yellowish crystalline powder
  Standard: enterprise standard
  Packing specifications: 100mg, 200mg, 500mg, 1g, 2g, 5g or 10g (or according to customers' requirement).
  CAS:14913-33-8